BECOME A CAREERSINFOOTBALL.COM MEMBER
TAKE THE NEXT STEP IN YOUR CAREER IN FOOTBALL...
Careersinfootball.com is a specialist Career Consultancy developed to help you find, access and succeed within your chosen career in the football industry.
We will help you locate, find and create your perfect career in the football industry!
INFORMATION
Gain all the knowledge that you will need to access and succeed in the football industry
DEVELOPMENT
Develop your 'career skills' to create and access opportunities in the football industry
PROGRESSION
Find and access both short and long term opportunities
RECENT MEMBERS ONLY CONTENT
WHO WORKS IN AN ACADEMY - article
HOW TO GET AN INTERVIEW FROM YOUR APPLICATIONS - article
TECHNICAL SCOUT - career profile
HOW TO USE YOUR CV - article
HEAD OF ACADEMY SPORT SCIENCE & MEDICINE - career profile
PERFORMANCE ANALYST - career profile
HOW TO GET REPLIES TO YOUR EMAILS - article
FOUNDATION PHASE COACH - career profile
SALARIES IN FOOTBALL - article
Why should I sign up for membership to access jobs in football?
Careers in Football is a Career Coaching organisation working to help you access a career in the football industry. As a member you can access all the latest vacancies at professional football clubs and organisations. You can also access information about the sector and advice to help you apply for jobs and succeed in your chosen career.
​
We source all the latest vacancies in the football industry and highlighting them to our members. This saves you hours and ensures you don't miss any opportunities that you want to apply for.
How do I sign up?
Membership can be purchased through our Online Store. You have three options of membership (1 month, 6 months and 12 months) these time periods will be counted from the date you sign up e.g. Sign up on 12th December 2016 you will have access until 12th December 2017.
Once you pay for membership please create a login and password on our Members Area page. Once we receive this we will verify your account and give you access (we aim to do this ASAP but could take 12 hours maximum).
What happens after I sign up?
We will send you an email to notify you that we have verified your account and also give you an opportunity to arrange a phone or Skype call to discuss what you are looking for and how we can help further - this is not compulsory. You will have access to the members area for the time period you have paid for.
What jobs are featured in the members area?
We source jobs from a number of different locations - ensuring we offer the most comprehensive vacancies list possible. These are from vacancy pages of the clubs/organisations, job websites, social media as well as from our contacts in the football industry.
We make an effort to promote all the jobs from various sectors (coaching, business, media, sport science, medicine and development) this is to support your job search and maybe increase your awareness of the different jobs available in the football industry e.g. if you are a qualified coach and looking for a full-time position in coaching you may also be interested in a different type of role (don't forget Mourinho worked as a Translator at Barcelona!). So keep your eyes open and have a look at what is available.
We ensure that all the vacancies we post are from top clubs and organisations. We filter the vacancies we promote to ensure that they are suitable and of a certain standard before posting them.
What type of organisations and clubs are the jobs from?
We promote jobs from Premier League clubs, Football League clubs, Top European clubs, MLS clubs, National Governing Bodies and other organisations working in the football industry (brands, technology organisations etc). The vacancies are sourced from clubs and organisations in the UK, Ireland, France, Holland, Portugal, Germany, Australia, New Zealand, USA, Canada and more. If you want a job in the football industry we will help you access it.
What other features can I access as a member?
As a Career Coaching organisation we aim to develop your career skills to give you the tools you need to access opportunities in the football industry. We are aware that not all jobs are advertised so we aim to give you ideas of how you can create your own opportunities e.g. if you are looking for a first team coaching role it is very unlikely this will be posted or advertised instead you can access these types of roles through networking and developing your marketing and self-promotion skills. We will assist with developing these skills.
​
Have other questions? Please CONTACT US
WHAT YOU GET AS A MEMBER...
Whatever stage of your career you are currently at, we can help you take the next step! Here a just an insight into some of the content and information featured in our Members Area...
FIND JOBS IN FOOTBALL
​
Careersinfootball.com offers the most comprehensive jobs and vacancies page available.
We do the hard work for you and source all the available vacancies and opportunities in the football industry.
Each week you will receive the latest roles and vacancies to your inbox.
LEARN ABOUT THE INDUSTRY
​
Careersinfootball.com provides exclusive insight into different careers in the industry and how the industry works.
​
If you are not sure which careers suit your interests or what to find out more our membership is perfect for you.
ASK
QUESTIONS
​
Careersinfootball.com members are our priority and we are happy to receive questions and requests from them - whether it is support for an application or helping to take your next step - get in touch.
​
Stuck? Unsure? Want to get to the top? Ask any career related question.
FIND THE PERFECT CAREER FOR YOU
​
Careersinfootball.com profiles and information regarding over 50 different roles in the football industry.
Discover which careers interest you, what they do and speak to us about how to access these roles.
GET
SUPPORT
​
Careersinfootball.com provides exclusive expert advice and guidance through our career services.
​
As a member you can access these services at discount rates and achieve your ambitions in a career in football. We also give regular exclusive discounts and giveaways to our members.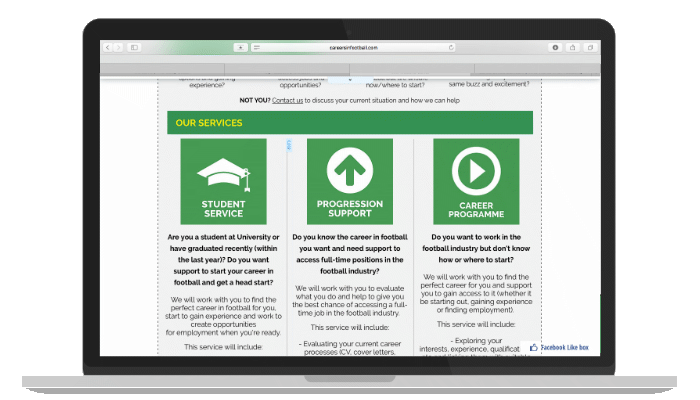 "I just want to say thank you to Careersinfootball.com as I received and accepted a job offer to work in a football club in Championship.
I found this job through the links on your website!"
Andreas
"Membership to Careersinfootball.com gives me access to the latest vacancies in the football industry from professional clubs and organisations. I was also able to attend a networking event with top professionals in the industry thanks to the weekly updates I receive. With membership to Careersinfootball.com I have confidence I will achieve my ambitions in the football industry."
Bruno, MSc Sport Business Management Graduate
"Careersinfootball.com membership provides me the latest vacancies in a wide range of organisations in the football industry. Through the membership I have received two interviews at organisations that I would not have considered or found without Careersinfootball.com"
Sean, BSc Sports Development and Coaching
​
I discovered careersinfootball.com years ago when I was looking for a career change. I came across several interesting jobs but I didn't think I had the correct skill set for them. This past year I decided to take the leap and do an MBA in Football and rediscovered the site. I was impressed at how much it had grown since the last time I had used it. My favourite part of the site has to be the weekly newsletter detailing the newest career vacancies. I find this useful because due to my hectic schedule I find it difficult to check the site daily for updates. For those who may be looking for a career change, this site will be one of the most useful tools in your quest. Thanks to Toby I am on my way to finding a strategic marketing position in the industry.
Nicole, Aspiring Marketing professional
​
I would recommend serious football people to join Careersinfootball because since joining I have been able to access some great information regarding job opportunities not just within the UK but abroad also, I have also had the pleasure and benefit of being contacted by 'football people' who understand my journey and can help me progress to where I want to go. It is not only a great site but is being run by a great set of people.
Noel, Football Coach
BECOME A MEMBER NOW AND ACCESS YOUR DREAM CAREER IN FOOTBALL